Haida Gwaii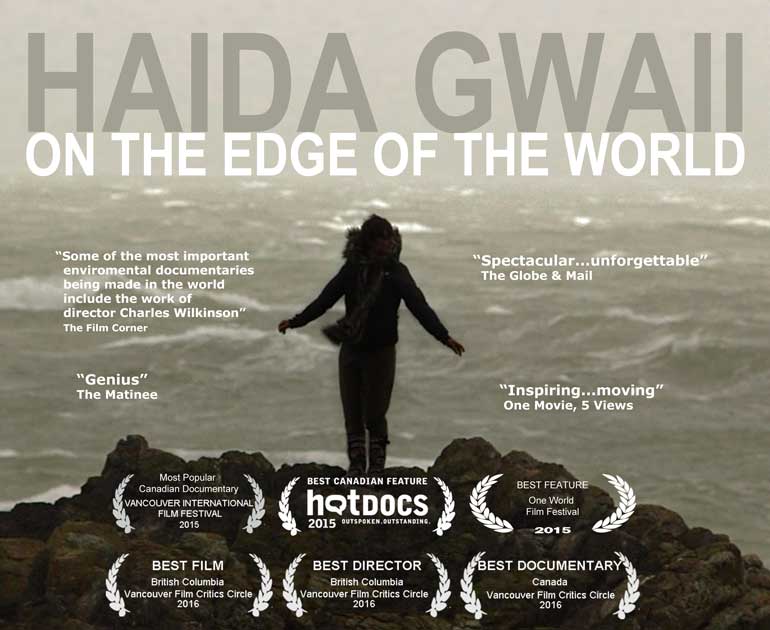 Winner of the Director's Guild Allan King Award for Excellence In Documentary
This inspiring and hopeful story set on the pristine Haida Gwaii archipelago shows how the distinct world view of this 14,000 year old society is co-mingling with an influx of progressive, modern urbanites to create a sustainable world that well may survive the formidable challenges of the 21st century.

HAIDA GWAII: ON THE EDGE OF THE WORLD WINS TOP PRIZE AT THE LARGEST DOCUMENTARY FILM FESTIVAL IN NORTH AMERICA
Tune in and watch on BC's amazing Knowledge Network.
Then visit the website and spend some time exploring more of Haida Gwaii.
See the Film
Official Selection at more than 35 international film festivals
What People are saying
Audience reaction has been wonderful. And the reviews have been very kind.
"Revels in, supernatural-B.C. beauty… it's also remarkably astute"
POV Magazine
"a wonderful film about the environment that doesn't just talk about solutions, but shows people actually putting those ideas to good use."
Toronto Film Scene
"…spectacular, unforgettable"
Globe & Mail
"… needs to be seen by all Canadians"
The Extra Mile
"…a beautifully filmed portrait. Inspiring & moving"
One Movie, 5 Views
"Some of the most important environmental documentaries being made in the world include the work of director Charles Wilkinson"
The Film Corner
"Genius"
The Matinee