Oil Sands Karaoke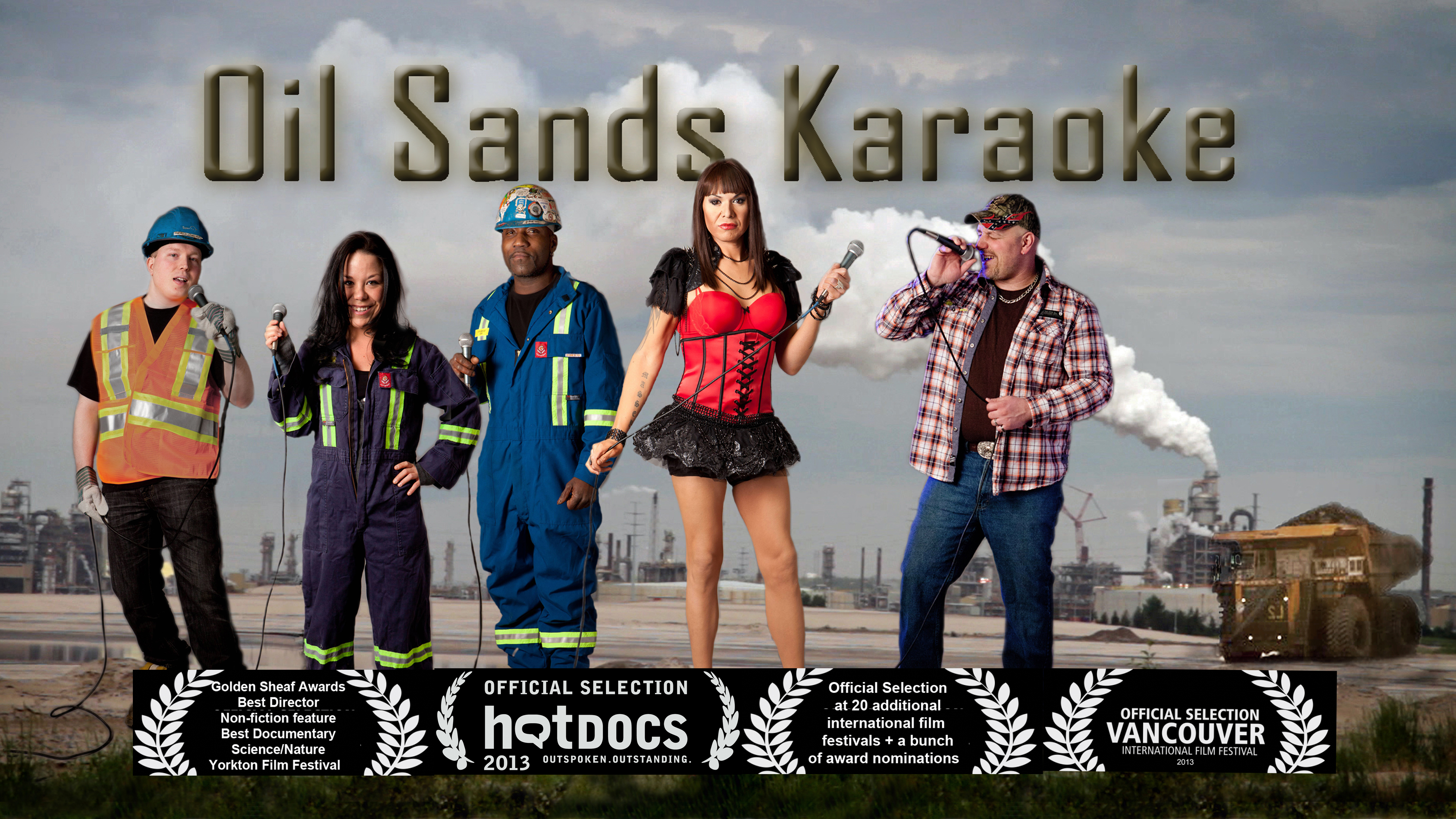 Oil Sands Karaoke has been recognized by over 20 international festivals so far. We don't have the resources to update the page here as often as we'd like, but good things keep happening & we try to thank people via Facebook & Twitter as often as we can.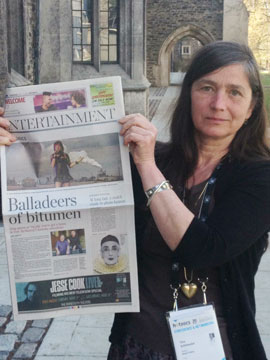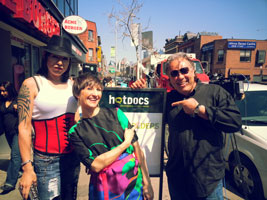 Oil Sands Karaoke had its world premiere at Hot Docs in Toronto. That went pretty well (more below).
There was a special screening for the people of Ft McMurray. That went pretty well too (below).
We were honored to have been selected for screening at the Vancouver International Film Festival and went on to win Best Director and Best Documentary awards at the Yorkton Film Festival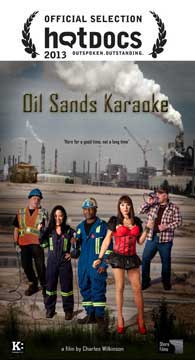 Our goal was to make a movie about a much talked about but little understood place in our back yard – Ft. McMurray, Alberta. Those who focus on economic prosperity reminds us that the place has become the economic engine of the country. Those whose focus is on the very real environmental threats we face see 'Ft. Mac' as the poster child for all that's wrong with our world. Often lost in the crosstalk are the people involved. Why do people go to Ft. Mac? What's life like up there? Does the global controversy surrounding their livelihood affect them at all? Tina & I set out to make what we hoped would be a powerful, funny, understanding, and hopefully inspiring exploration of the human condition.
Why karaoke? We accidentally visited a karaoke bar in the Northern oil patch while on tour with Peace Out. Some of the work boot and mackinaw-clad oil workers could really sing. We were perplexed at how the various cliques supported each other – older hard-assed Harley types sincerely cheering a delicate and obviously urban art school guy singing "Do You Really Want To Hurt Me?" At first the whole scene seemed just kind of weird and wonderful. But as we delved into it we began to sense something bigger, a story that maybe touches most of us. That's the film we set out to make.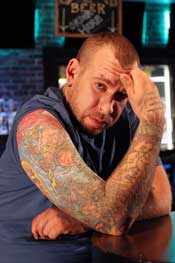 We initially met with a wee bit of mistrust up in Ft. Mac. The residents there often see Southerners with cameras as elitist, not very bright opportunists there to slam them with cheap shots about rampant crime, prostitution, drug abuse, suicide, callous disregard for the natural world, etc. It took a while to convince people we were after something a bit deeper. I'm sure there are people up there who still doubt our intent. After all, we made Peace Out. We are on record as believing that our human behaviour has put our kid's futures on the line, and that we need to get serious about fixing this now. But it's clear that we seem to have reached an impasse where the 2 opposing camps just don't communicate. So in watching the 'hard hats & hippies' getting along on the karaoke stage, sharing what seemed a genuine closeness we thought maybe there was a window here. We can't talk to each other, but it might be a start if we try & sing together. Now it's up to audiences to judge.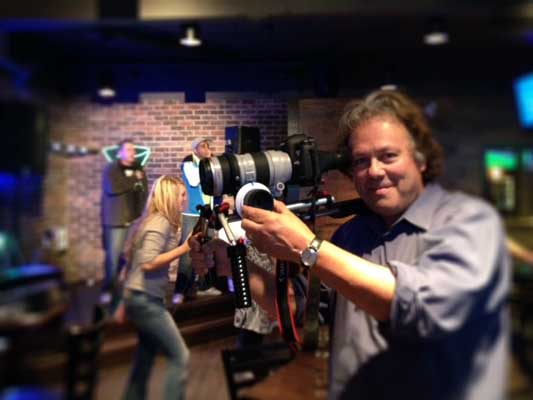 The film was made possible with support from BC's wonderful Knowledge Network. Instinct Entertainment's Michael Perlmutter managed to license 2 dozen classic hit songs for us. As always, Gary Shaw at Side Street Post made the pictures look beautiful. And Bill Sheppard at DBC Sound mixed a whispering / thundering track.
And wait until you meet our singers – Brandy & Chad & Jason, Dan, and Iceis. Wait till you hear them sing all hell out of one classic hit after another. And if nobody mentions it before the show, it's perfectly okay to sing along in the theater. It's karaoke…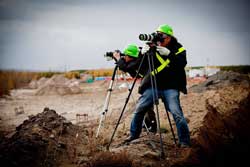 Get the Film
What The Critics Are Saying
"...Oil Sands Karaoke is quite unlike any documentary about the environment that you'll ever see... Has the power to lift our spirits to the Heavens - and does so with a virtuosity that captures it so indelibly that many will be moved to tears. I was. Transforms into a thing of genuine beauty. The most entertaining documentary of the festival."
Greg Klymkiw, Film Corner
...Although it's called Oil Sands Karaoke, it's not actually the karaoke that proves to be the most intriguing aspect of the film."
Kristal Cooper, Toronto Film Scene
"...Set against the openness of beautiful northern Alberta wilderness and the desolate, industrial wasteland of the oil sands… It's no Canadian Idol. (It) creates its own atmosphere, its own glamour."
Pam April, Pretty Clever Films
"...Oil sands workers by day become divas and country superstars when the sun goes down, encouraged by a few drinks and a dream..."
The Toronto Star
"...a refreshing film that shows the audience a different side of the oil sands..."
Kirk Haviland, Dorkshelf
"...challenges audiences to seriously consider the part they play in the climate change crisis."
Lynn Fenske, The Examiner
"Iceis Rain's rendition of 'All By Myself' is the true showstopper of the film… One entertaining good time."
Sean Kelly, On Movies
"...a meaningful and multifaceted discussion about the environment, the economy and the often-ignored human element… a fresh, nuanced understanding of Fort McMurray and its inhabitants not as cogs in a corporatized and faceless machine, but as identifiable and intelligent individuals torn between a sense of purpose and a sense of duty. It is through the focus on culture and humanity in the oil sands that Karaoke inspires discussion."
Nicholas Gergesha, Point Of View
I was riveted and connected to a past, present and future incredibly complex and troubled, yet brimming with courage, resolve, and ultimately, hope… a rare piece of high art that is accessible, entertaining and moving."
Russell Thomas, Ft. McMurray Middle Age Bulgen
"Charming and light-hearted. Entertains the heck out of people while still teaching them something. It also is the perfect marriage of film and music."
Global Visions Film Festival
"Oil Sands Karaoke is a stereotype-transcending look at the power of community, self-expression and isolation within a booming oil town."
Calgary International Film Festival
"Charles Wilkinson thinks (Alberta premier) Alison Redford and Robert Redford should consider hugging it out over beer and karaoke at Bailey's one night, and maybe invite Neil Young to come along.
Introduces humanity and reason into an issue that Wilkinson believes is crucial to the survival of the planet."
Jamie Hall, Edmonton Journal
"Doesn't shy away from the environmental issues, but filters everything through a social, rather than political-issue view. Four stars"
Paul Blinov, The Vue
"I love this f#*kin' movie, man!"
Garfield, Oil Sands worker